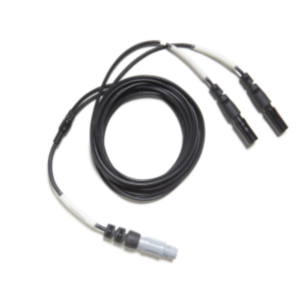 TDX-Y-TSW-TDP
Y-Connector Cable
Description
For use with the TRANSDISCAL* System and RF Pain Management System. TRANSDISCAL* System for discogenic pain- For intervertebral disc biacuplasty, bipolar probe placement straight into the disc creates large, reproducible lesion within a significant volume of the disc. Connect the Version 3 Adaptor Cable to the V3.0 PMG. The 14-pin male end of the TRANSDISCAL* Y-Connecting Cable connects to the female end of the adaptor cable.
The AVANOS* COOLIEF* TRANSDISCAL* Cooled Radiofrequency Y-Connector Cable provides a path for delivery of radiofrequency (RF) energy and temperature signals to/from the AVANOS* COOLIEF* TRANSDISCAL* Cooled Radiofrequency Probe(s). The TRANSDISCAL* Y-Connector Cable is used with one or two TRANSDISCAL* Probes, one or two AVANOS* COOLIEF* TRANSDISCAL* Cooled Radiofrequency Introducers and a AVANOS* COOLIEF* Cooled Radiofrequency (RF) Pain Management Generator
Product Features
Shipped non-sterile and must be sterilized as per Instructions for Use prior to use.
Used to attach the TRANSDISCAL* Probe(s) and Introducer(s) to a RF Generator.
Equipped with three connectors/2 x 5-Pin Female RF Probe Connectors/ 1 x 14-Pin Male AVANOS* RF Generator Connector
The dimensions and properties listed can vary within pre-established specifications. This page was created using the most recent information. In the interest of continuous improvement, the characteristics of the product may change without prior notice.
| Name | Value |
| --- | --- |
| Age | |
| Catheter Length (In.) | |
| Catheter Length (mm) | |
| Connector | |
| Cuff Size (mm) | |
| Diameter (Fr) | |
| Inner Diameter (mm) | |
| Inner PVC Catheter (Fr) | |
| Intubation | |
| Length | |
| MDI Attachment | |
| Outer Diameter (mm) | |
| Outer EVA Catheter (Fr) | |
| Kit, Pack, or Tray | False |
| Single Use | False |
| Made With DEHP | N/A |
| Product Brand | |
| Name | Value |
| --- | --- |
| Name | Y-Connector Cable |
| Catheter Length (cm) | |
| Diameter (mm) | |
| InnerDiameter -mm | |
| Inner PVC Catheter (Fr) | |
| Kit, Pack, or Tray | False |
| Made With DEHP | N/A |
| Made With Natural Rubber Latex | |
| Product Brand | |
| Single Use | False |
| Name | Value |
| --- | --- |
| Packaging Details | 1 CS = 20 Units |
| Case Selling Package Volume | 1529.110 CCM |
| Case Selling Package Length | 23.178 CM |
| Case Selling Package Width | 20.638 CM |
| Case Selling Package Height | 3.175 CM |
| Case Selling Package Weight | 0.249 KG |